Danielle Ransom, PsyD
Licensed Psychologist, Clinical Neuropsychology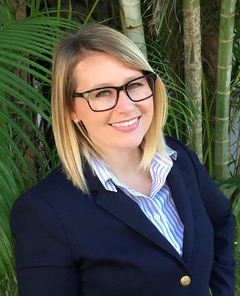 Dr. Danielle Ransom is a pediatric neuropsychologist specializing in the evaluation of children, adolescents, and young adults. She holds a doctoral degree in clinical psychology with a concentration in neuropsychology from the Virginia Consortium Program in Clinical Psychology, a University-based, APA accredited program, jointly sponsored by The College of William & Mary, Eastern Virginia Medical School, Old Dominion University, and Norfolk State University. She completed her internship in the Department of Psychiatry at Allegheny General Hospital in Pittsburgh, PA before completing a three-year clinical and research postdoctoral fellowship at Children's National Medical Center in Washington, DC. Through the Association of Postdoctoral Programs in Clinical Neuropsychology (APPCN)-affiliated fellowship at Children's National, Dr. Ransom honed her training by conducting neuropsychological evaluations with children, adolescents, and young adults with a range of medical, neurologic, and psychological conditions. She received specialty training in the evaluation and comprehensive management of mild traumatic brain injury (mTBI)/concussion using a range of tools to detect meaningful post-injury changes.
Dr. Ransom holds a faculty appointment an Assistant Professor of Neurology in the Division of Neuropsychology at the University of Miami Miller School of Medicine. She is the Director of the University of Miami Sports Concussion Program's Neuropsychology Division where she provides clinical services, conducts research, and disseminates education/ training in the field of traumatic brain injury. She evaluates and treats a wide variety of patients recovering from concussion, ranging from recreational sports leagues to collegiate and professional athletes. Her work has developed into an exciting program of clinical research investigating functional outcomes and recovery patterns concussion recovery, with an emphasis on improving clinical decisions using principles of evidence-based assessment. Her work has been published in peer-reviewed journals and has been presented at national and international conferences.
Dr. Ransom also conducts neuropsychological evaluations with a range of children, adolescents, and young adults with a wide range of medical, neurological, and neurodevelopmental disorders, including patients with epilepsy, cancer and blood disorders, traumatic brain injury, genetic conditions, and ADHD, among others. In addition to her extensive clinical work and research, Dr. Ransom is a teacher/trainer and public health advocate for patients and families.
Dr. Ransom employs a comprehensive approach to assessment by identifying each patient's strengths and weaknesses in the context of biological, psychological, and social factors, weaving these intricate components to understand the complex tapestry of daily life. She firmly believes that, when we meet each patient on his/her individual level, we can find opportunities and an environment for each individual to thrive. She is inspired daily by the amazing strength of each individual and resiliency of the brain when faced with a range of conditions, from those encountered in daily life to situations of extreme duress. Dr. Ransom joins Neurocognitive Consultants with a holistic approach in mind and is eager to work with families who are looking for a comprehensive understanding of their child's abilities in order to capture their potential within the moving target of development.
For a complete review of her vitae, please click here.
Contact Dr. Ransom at
By telephone 954.306.8819
* Please read our Frequently Asked Questions page for more information.